BIG ANNOUNCEMENT AT END OF THIS ISSUE!!
Teen Titans #35
Story by Geoff Johns, Pencils by Tony Daniel, Inks by Kevin Conrad.
We find out nothing about what happened to Gar and Raven. In fact, Raven gets mentioned only once, and that is in passing. However, we do see a little bit of Beast Boy.
1) First page of the issue. Gar talking with... someone, at Doom Patrol headquarters.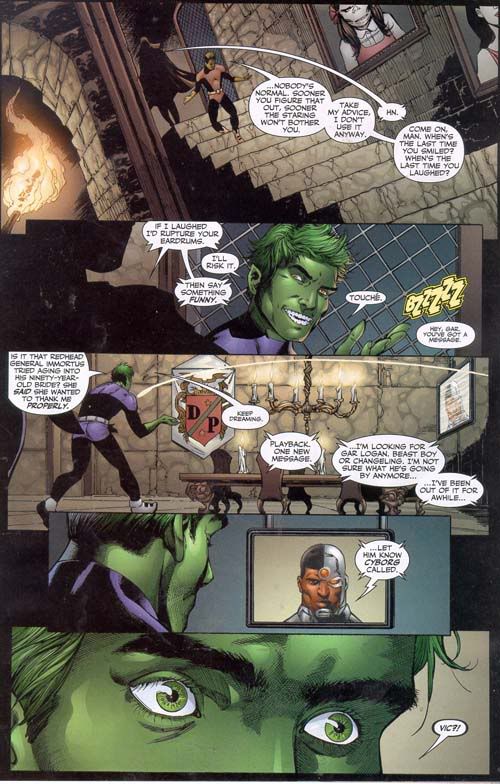 2) Last page of the issue. The Doom Patrol shows.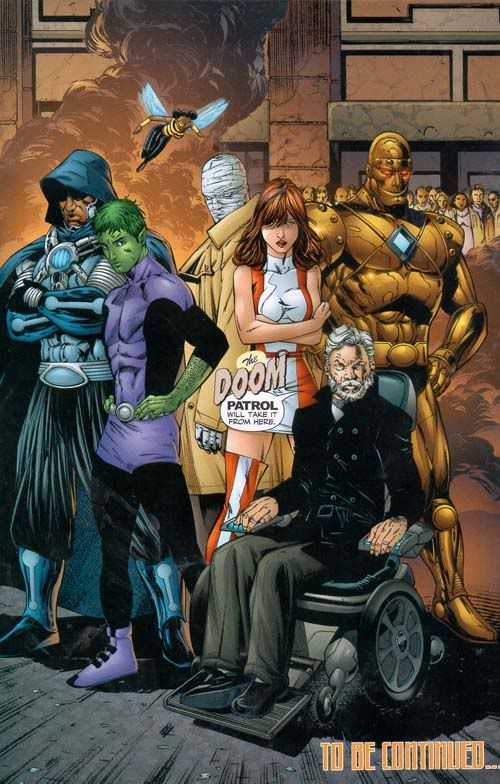 UGH!! Not only is BB basically in his animated uniform, but Bumblebee now looks like she stepped right out of the pages of
Teen Titans Go!
Sorry, Tony & Geoff, but I really wish you hadn't gone that route.
That's it for this issue. But next issue promises to have more on BB.

Infinte Crisis #7
Story by Geoff Johns; Pencils by Phil Jimenez, George Perez, Ivan Reis, and Joe Bennett; Inks by Andy Laining, George Perez, Ivan Reis, Jerry Ordway, Sean Parsons, and Art Thibert.
Only two things in here worth mentioning.
1) Raven gets gypped on the Perez cover.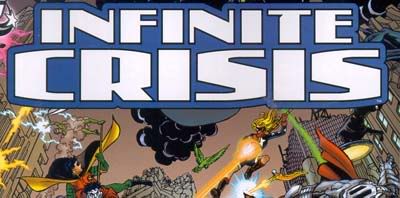 2) Neither Gar nor Raven are visible in any of the crowd scenes, but since some of the other Titans are there I presume they're in there somewhere in that mess. However, there is a montage at the very end that shows most of the main characters in the DCU, and primarily in their OYL costumes. Both Garfield and Raven are depicted there, right next to each other.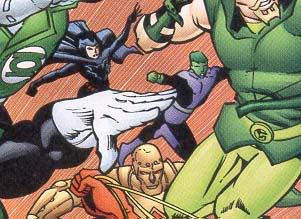 I don't know how significant it is, but I find it curious that whenever we see either Garfield or Raven depicted in a crowd scene, even in a montage such as this, we generally see the other very close by. Even when there are no other Titans in sight.
*****
OK, first off, the big news.
Marv Wolfman is writing a four-part
Raven
mini series. Yes, you read that right. This is the mini series project that Wolfman has been alluding to for some months now, and it is now confirmed. No idea when it comes out, but sometime in the fall is my guess. Is this good news or bad for us? At this point there is no way to tell. The series could be a prequel, or it could be in the "current" DCU. No other information is really available. However, Wolfman has alluded in the past that he's had no problems with the direction Johns has taken his characters, so perhaps we'll be pleasantly surprised by what he incorporates in his series.
Also announced: Confirmation that a new
Titans East
series is in the works, at the very least co-written by Johns. Again, no other information other than that its in the pipeline. This too is most likely to be a Fall '06 release.
*****
The next issue of
Teen Titans
is scheduled for May 24 release. Johns has assured everyone that putting TT back on schedule is a top priority, so hopefully this release date will be kept. And next issue promises to have some answers about what happened to Garfield and Raven in the One Year. Keep your fingers crossed. We're not finished yet.
Remember, Keep the Faith, don't let the bashers get you down, and SUPPORT BB & RAE - BUY THE TEEN TITANS COMIC BOOK!!