Yeah, I know. I'm late by a few days. Sorry, but I've had family and work matters to contend with. But we now have some news, probably more good than bad, to report. So, here we go.
Teen Titans #38
Story by Geoff Johns; Cover by Tony Daniel; pencils by Carlos Ferriera; inks by Art Thibert and Drew Geraci.
Cyborg finds an enigmatic message from Raven on one of the surveillance videos left for him, and decides that its time for the Titans to go out and find her.
1) Raven explains why she left the Titans. Big news, Gar doesn't know the reason why she broke up with him.
Notice the really look of regret on Raven.
2) Eventually, the Titans track her down to an apartment in Beijing. They don't find her there, but they do find she has been trying to figure out who the traitor is. There is a splash page with polaroid shots of all the Titans from the One Year, and Beast Boy (Gar) is among them.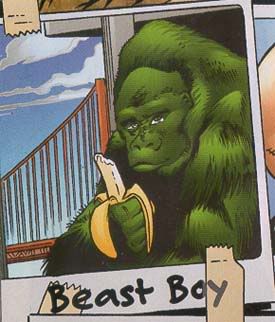 3) Final page of the issue. Raven is seen running away from some heavily armed individuals. She's carrying a book of some kind. But what book is it?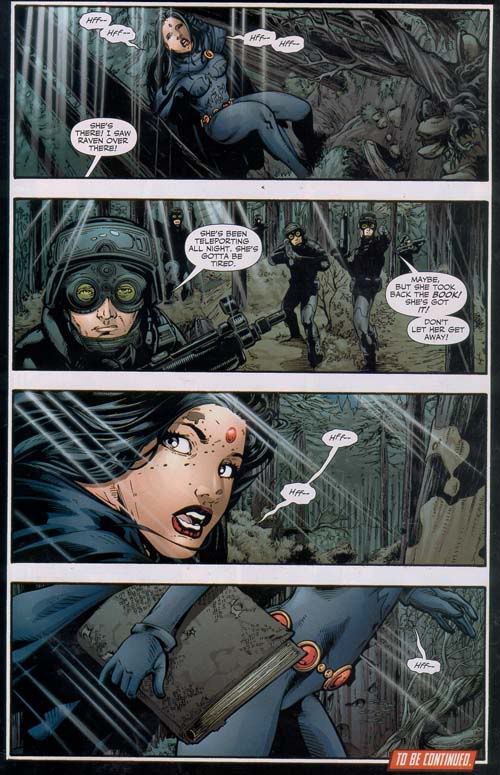 Guess we'll have to wait until next issue to find out more.
**********
Next release of interest to us will be
Secret Six
#4, which is scheduled to be released on September 13th (Moon Blown-Out-Of-Orbit Day). This is the Secret Six crossover with the Doom Patrol, the last page of which I showed on the previous BBRCBW. This will almost certainly be Gar's last appearance in "current" DCU continuity for 2006.
Next issue of
Teen Titans
is currently scheduled for release on September 27. Yeah, I don't believe it either. But that's what DC's website currently states. On the same day,
52
#21 is also scheduled for release; this is going to be a heavily Teen Titans-centric issue, and will probably be our only chance to see any shippyness for the remainder of the year. It may also be our last glimpse of Gar until 2007, although there's still the possibility of additional appearances in
52
.
No news on the release date for the first issue of
Raven
, but 2007 is starting to look very probable. A source has informed me that a new
Doom Patrol
series is unlikely in the extreme until at least summer 2007, probably much later. So, in all likelihood, no regular place for Garfield Logan for at least a year. :(
**********
Well, that's it for the time being. Until next time, please remember.
SUPPORT BB/RAE!! BUY THE TEEN TITANS COMIC BOOK!!